White Paper- Abstraction
Camden Market
Chemigrams
cyanotypes
Responding to an Artist
For this task art students had create chemigrams, we were asked to response to there piece. When I first saw the image I was drawn to the bubbles like prints on the right hand side of the image. Therefore for my response I wanted to reposnse to that small part of the image instead of reponsing to it as a whole. The images below are my response.
A Journey on the London underground
Exhibition- Media network
Exhibitions - Artist and Society
Exhibitions - Materials and objects
The Brief -- Just Existing in London

I would like for the brief to not be that specific as then I can expand and edit how i capture "existing in london". On making the brief I want to capture people in london when they go about their madame lives.
Second Development
Edits:
Three development
Inspired by Saul Liether
Fourth Development
Fifth Development
Sixth development ​
Seventh Development
Eighth Development
Ninth Development
Tenth Development
Inspired by Alexey Titarenko
Alexey Viktorovich Titarenko is a Russian photographer and artist. He was born on 25 November 1963 Age 53, Leningrad. In 1977-1978 he studied photojournalism and photography at the public university of Society-Related Professions, Leningrad.​The series "City of Shadows" is where I drew inspiration from for this development. This series is all about capturing the transition of a once oppressed Russia under the power of the communist state. Titarenko placed his camera outside the Vasiliesvostroskaia train station,which was the only public transport open at the time. The mass of crowds looked like a faceless human sea. Titarenko describes being at the station as creating the same response when "he heard the musical compositions, Shostakovich's 13 symphony" . The artist chose to print the image onto Gelatin silver print, this makes the print rich in silvery grey colours enhancing the surreal and muted tones of the city at the time. Titarenko is known for being one of the first to introduce long exposure into street photography. The "City of Shadows" explores Titarenko idea of ghostlike figures existing in a city that has lost it's identity. ​​
Eleventh Development
Edits:
Twelfth Development
Final piece:
This was my final piece for the mock. I put all the photos I edited in a book that i created on Photobox. When constructing the book i focused on pairing people together by what they look like in order to accomplished a aesthetically pleasing book. I felt this was successful as the final product looked and fitted with my intention. The only thing that I do not like about it is that It is too similar to the artists, Brandon Stanton. To further develop this I want to start looking at how people judge people on the street. I want to explore peoples first impression of others.
Thirteenth Development
Fourth Development
Final Piece
Powered by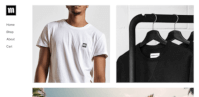 Create your own unique website with customizable templates.