Myra Greene started creating these images after the hurricane Katrina hit in the summer of 2005. She was upset after reading the racist comment replying to articles from the New York Times. Since no one was monitoring the comments they were judgmental and racist. She first thought of doing these sort of images when a friends of hers took a picture of her and she said she looked like a slave. This is what truly made her think of the idea for the project. Greene focused on the first features that a person sees and how they can judge a person without even knowing anything about them. Here she thought about how people could think she was from a slave background. Greene took an interesting process paths she started to make the images by wet plate printing used in the 1850s/1860s. She exposure each image for about 30 seconds on 3 x 4 inches plates. She spent two years mastering the process to make the images. When she is taking the pictures she uses a 2300 watt flash, the camera has to be 9 inches away from her face for the close up to be effective. Her intentions for the project was to question judging character by brief recognition. As this started by her thinking that she had slavery feature she uses technique from the 1860s. Greene used this project to draw attention to science due to people in the late 19th century believing that if you had a slanted nose or large lips they must a criminal and shouldn't be considered a human being. Greene's photo are very raw and making it seem that they come from blackness instead of white.She uses a high contrast to really bring the features she wants.
My First Response
My Second Response

Dark Room Techniques​
Lewis Khan second response
For my second response I looked at the work place of two different people one a rolfer and his work room and the other an artist studio that work with ceramics. ​When I went to photographer the places I kept this is mind like khan work I used lighting that the person who normally works there sees everyday. The only edits I did to the image was to turn it black and white so I would not disjoint the truth of how the object actually looks.
Three Strands
​
STRAND 1
STRAND 2
​
STRAND 3
FIRST DEVELOPMENT
SECOND DEVELOPMENT
Third Development
PROCESS
Powered by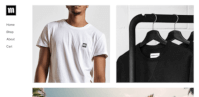 Create your own unique website with customizable templates.